Yet Another Perl Conference Europe 2001
August 2-4, 2001

Hogeschool Holland
Amsterdam, Netherlands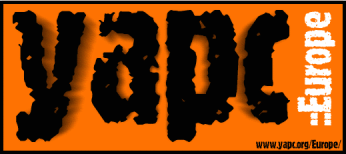 Sex, Drugs and Rock n' Roll
Rock n' Roll (Clubs)
Most clubs are located near Rembrandtplein and Leidseplein. Paradiso and Melkweg frequently have concerts and are both near Leidseplein. The Cave at café DuLac, Haarlemmerstraat 118, is a goth club on the first Friday of every month.
---
Sex
Wallen is the red light district and is located in the area around Oude Kerk. You are not allowed to take photos of the women behind the windows.
---
Drugs
You don't need a guide other than your nose to find a coffee shop.