Yet Another Perl Conference Europe 2001
August 2-4, 2001

Hogeschool Holland
Amsterdam, Netherlands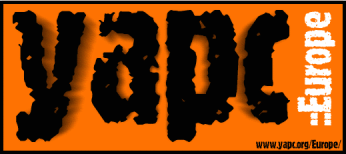 CPANTS
A hack session will be held for CPANTS (CPAN Testing Service) several days before and after the conference. For more information see the BOFs page.
---
Amsterdam.pm
The August Amsterdam Perl Mongers will have their meeting on Tuesday, 7 August, 2001. Visitors are invited to attend.
---
HAL 2001
'Hackers at Large 2001' will take place between 10 and 12 August in the fields at the University of Twente, Enschede, The Netherlands. Don't forget your tent!
---
Internet Access
Easy Everything at Reguliersbreestraat 22 is open 24 hours. There's also a branch at Damrak 23, near Centraal Station.