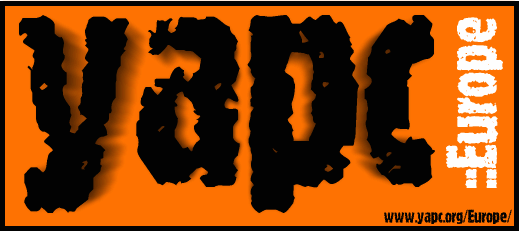 Welcome to the yapc::Europe website!
Please note - anti spam measures are in place on this site - all @ characters in email addresses have been replaced with [at]. To use the mailto links, replace the [at] with @ in your email program.

YAPC::Europe is a grassroots, inexpensive Perl conference modelled on yapc (Yet Another Perl Conference). It will be held in London, UK from the 22nd to the 24th September 2000.
It is modelled on yapc (Yet Another Perl Conference). Frank Willison has written a review of YAPC::America::North again this year. Uri Guttman also wrote down some of his thoughts of last year's yapc::America::North here.
Leon Brocard has provided a cheatsheet to provide details about everything and anything that is planned about the conference. Additionally, here is the writeup for the lightning talk he presented at yapc::NorthAmerica this year.

The Institute for Contemporary Arts, in London; here is a map and local directions and here is the information they have about the event on their website. Also, here are some more directions and another map.

The Call of Participation has now gone out, a copy of the text is available here.

and

The current schedule and descriptions of the talks and tutorials.

Registration for YAPC::Europe is now closed - we're sold out! Keep an eye on the mailing list in case there are any cancellations / openings...

Here are some travel instructions.
Also, some information about power and telephones in the UK.

Here are some suggestions for accommodation.

Here is what has been suggested / planned so far. *** new content alert ***

Any questions about the conference should be directed to yapc-europe[at]lists.dircon.co.uk

Here is a list of who does what for yapc::Europe. *** emergency cellphone numbers ***
Website maintained by Natalie Ford